Hotel Mercedes a Riccione
An unforgettable atmosphere is awaiting you at Hotel Mercedes in Riccione, located only twenty meters from the beach.
Pampered and spoiled by the hotel's owners, who manage the hotel in person, you will discover a world that is custom made for our guests, fully dedicated to make your holiday perfect.
Hotel Mercedeswill bewitch you: strolling along the seafront you will find yourself on the beach, enjoying a wonderful and romantic sight. Hotel Mercedes is also ideal for families thanks to its safe playground, a relaxing swimming pool with hydro-massage and a mini-pool for children.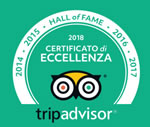 Ideally located on the prestigious D'Annunzio promenade our hotel in Riccione is just 150 meters away from the famous Dante Boulevard, the main pedestrian-only shopping area in Riccione. Its display windows, lights and colors will take you directly to the famous Ceccarini Boulevard.

Treat yourself to an unforgettable holiday, filled with courtesy and professionalism; you will be happy you did.